River plume ecosystem
Research Status: Ongoing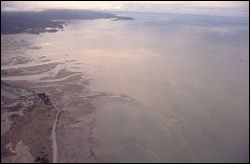 Motueka River discharging into Tasman Bay
Introduction
The river plume ecosystem (RPE) is a relatively new global concept that has been adopted to explain the interaction between significant freshwater inputs (such as the Motueka River) and coastal marine receiving waters (such as Tasman Bay). This project defines the RPE in Tasman Bay and investigates its use for sustainable management of coastal resources.
Research Approach
A number of previous investigations have helped formulate the concept of the river plume ecosystem for management of Tasman Bay's fish and shellfish resources within the context of terrestrial and freshwater management. Research is focussed on a mix of real-time monitoring of the water column in Tasman Bay and more traditional sampling and analyses of seawater and seabed characteristics.
Research Results
The significance of the Motueka River to the productivity of Tasman Bay has been confirmed. This includes knowledge and importance of the actual freshwater inflow into Tasman Bay as well as the role of near bottom turbidity in terms of shellfish and primary production. The spatial extent of the RPE can generally vary from <50 to >300 km2 however during major floods the plume can extend to a much larger area (e.g. >1500 km2).

These results have led to redefinition of the area of the Motueka catchment to include the RPE. Findings have contributed to resource consent hearings in terms of aquaculture and marine farm development in both Tasman and Golden bays.
| | |
| --- | --- |
| | |
| Plume October 6, 2007. Photo: Graeme Butterfield | Plume off Abel Tasman National Park |
Recent Publications
Year
Title
File Size
2012
A Summary of Outcomes and selected formal publications from the Integrated Catchment Management (ICM)research programme:2000 – 2011

1.08MB
2011
Integrated Catchment Management – Special Issue of the NZ Journal of Marine & Freshwater Research
2010
Spatial Delienation of the Motueka River Plume Influence in Tasman Bay based on Seabed Characteristics
2.33MB
2008
Faecal Indicator Organism Modelling (FIO): Application to Motueka River
1.40MB
2008
Nutrient Loading from the Motueka River into Tasman Bay, 2007
965KB
Recent Presentations
Year
Title
File Size
2007
Photo of the Motueka plume
597KB
2006
Fine Scale Assessment and River-Sea Links in the Motueka Catchment.
2006
A river plume ecosystem concept for evaluating and managing catchment-sea linkages.
2005
River plume effects on the coastal environment.
446KB
2005
The Motueka River plume ecosystem.
1894KB
BMPs, BEPs and Guidelines
Primary Contacts:
Chris Cornelisen Email
More details»
Institute
Cawthron Institute

Expertise
Marine ecologist
Paul Gillespie Email
Phone: 03 548 2319
Fax: 03 546 9464

Institute
Cawthron Institute

Expertise
Estuarine & marine microbial ecology
Page last updated Monday, 16 March 2009