Historical development
Research Status: Past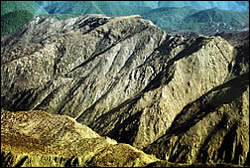 Red Hills
Introduction
History of settlement in the Motueka River basin
Archaeological evidence suggests that Maori groups first settled the Motueka River area before 1350 A.D. and more permanent camps and fortifications (pa) were gradually established.
Settlement was largely restricted to the coastal areas, although Maori travelled through the catchment in search of valued "pounamu" or greenstone (argillite). Inter-tribal conflicts decimated the local tribes (iwi) in 1828-1830, about 10 years before the first European settlers arrived.
Early European settlers were largely interested in sheep grazing land and in gold. Gold operations existed in the area until the early 1900's.
A major flood in February 1877 transformed the shape of the catchment, as a consequence of widespread mass wasting. This event has left a legacy that is important even today.
Subsequent flooding prompted local river boards to construct stop banks in the lower river in the 1950's.
Introduction of tobacco in the 1920's brought a period of growth and prosperity. Decline in the tobacco industry in the 1950's was followed by a rise in fruit tree, berry fruit, and hops and by a rise in commercial forestry.
Plantation forests - stocked primarily with exotic species such as Monterey pine (Pinus radiata) and Douglas fir (Pseudotusga menziesii) were established on less-fertile, steeplands abandoned and purchased from farmers.
More recently, vineyards, marine farming, and tourism have added substantially to the diversity and productivity of the local economy.
Social & cultural setting
New Zealand is a bi-cultural nation, recognising the contributions of both Maori and Europeans (pakeha). The legal document defining the relationship between Maori and pakeha is the Treaty of Waitangi (1840).
After languishing for over 100 years, the treaty has served as the basis for recent claims by Maori groups over various land and water resources. These claims are often a source of strong debate, tension, requiring negotiation and resolution.
A number of Maori tribes (iwi/hapu) are active the Motueka River area and their view and interests are an important part of the integrated catchment management programme.
One of these iwi are based at Te Awhina marae in Motueka township.
Research Approach
Literature search and dialogue to uncover both written and oral histories of the settlement of the catchment and the uses to which the land was put for productive purposes.
Research Results
| | |
| --- | --- |
| | |
| Tobacco fields | Environmental monitoring |
Recent Publications
Year
Title
File Size
2012
A Summary of Outcomes and selected formal publications from the Integrated Catchment Management (ICM)research programme:2000 – 2011

1.08MB
BMPs, BEPs and Guidelines
Primary Contacts:
Will Allen Email
Phone: 03 321 9600
More details»
Institute
Landcare Research

Expertise
participation, multi–stakeholder processes, participatory evaluation, networking
Andrew Fenemor Email
Phone: 03 545 7710
More details»
Institute
Landcare Research

Expertise
ICM programme management; local liaison; resource management; hydrology and water resource management
Garth Harmsworth Email
More details»
Institute
Landcare Research

Expertise
environmental planning, Maori research, Maori issues, land resource assessment, GIS applications.
Page last updated Tuesday, 4 September 2007