Stakeholder issues
Research Status: Past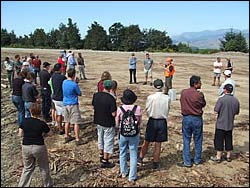 ICM AGM 2005 - Spooners saddle
Introduction
Key stakeholders with interests in the Motueka River catchment were surveyed in January-February 2000, to prioritise research issues relevant to natural resources management in the catchment.

The project was commissioned by the Tasman District Council, as an integral part of activities associated with the development of a research programme funded by the Foundation for Research, Science, & Technology, entitled "Integrated management of land and water resources in complex catchments" - eventually to become known as the Motueka ICM programme.

The principal research partners in this programme are Landcare Research, the Cawthron Institute, and the Tasman District Council.
Research Approach
The project evolved from informal discussions with stakeholders held in January 2000. It became clear during these discussions that dialogue about and prioritisation of the key research issues would be difficult given the format of these meetings (i.e., short time frame and open to all parties). The stakeholders suggested that they would prefer to see a listing of key research issues and have an opportunity to prioritise these issues, privately.

A survey questionnaire was therefore formulated and mailed to 80 interested stakeholders in late January. This questionnaire organised 37 questions into seven research issues and asked stakeholders to rate the questions as of high importance, potential interest, or of no interest to themselves.

Sixty-nine useful responses were received. Landcare research staff experienced in social surveys analysed the results. This was done in three ways: (1) the results were summarised and the frequency of replies presented as percentages in each of the three "importance"categories; (2) natural groupings of questions were analysed using statistical analyses ; and (3) responses were associated with "interest groups" to clarify the different priorities of the stakeholders.

Additional written comments and suggestions were summarised but analysed quantitatively. Respondentsí anonymity was preserved throughout.
Research Results
Most people thought most of the questions were of some importance, with 16 of the 37 questions considered to be of high importance. The following research issues were regarded as most important for resource management in the Motueka River catchment:

Water - availability (86%)
Water - pumping (79%)
Community - competing demands (73%)
Land - gravel (68%)
Water - impacts (65%)
Water - economics (62%)
Land use - ecology (62%).

Of least importance to the majority of respondents were community and applied research issues, in particular iwi and traditional wisdom concerns and coastal sediment issues (although these were important to the three respondents with iwi and marine industry interests).
| | |
| --- | --- |
| | |
| ICM AGM 2006 - Gravel workshop | Whiteboard notes |
Recent Publications
Year
Title
File Size
2013
Sharing stakeholder knowledge in water resource management across boundaries and interfaces: experiences from Australian and New Zealand UNESCO HELP basins
456KB
2012
A Summary of Outcomes and selected formal publications from the Integrated Catchment Management (ICM)research programme:2000 – 2011

1.08MB
2011
Facilitating voluntary action to reduce rural land use impacts in the Motueka River catchment
3.59MB
2011
Integrated Catchment Management – Special Issue of the NZ Journal of Marine & Freshwater Research
2010
The Sherry River Story – Improving Water Quality through Whole Catchment Planning.
3.71MB
Recent Presentations
Year
Title
File Size
2011
Facilitating voluntary action to reduce rural land use impacts in the Motueka River catchment.
0.02MB
2007
Meetings of the Community Reference Group (CRG)
0.06MB
2006
The importance of understanding social spaces for ICM research.
0.43MB
BMPs, BEPs and Guidelines
Primary Contacts:
Andrew Fenemor Email
Phone: 03 545 7710
More details»
Institute
Landcare Research

Expertise
ICM programme management; local liaison; resource management; hydrology and water resource management
Page last updated Tuesday, 28 August 2007