Sherry River Community
Research Status: Ongoing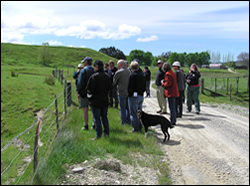 Sherry River field day - November 2007
Introduction
The Sherry River is a 7800 ha sub-catchment in the upper reaches of the Motueka River situated in Tasman District, Nelson. Made up of forestry in the upper end of the valley with a mix of dairy, sheep & beef units and a few smaller lifestyle blocks.

Following monitoring work in the early days of the ICM programme, the Sherry River was identified as a hot spot of fecal contamination. This led to the formation of the Sherry River Catchment Group and the cow crossing experiments that ultimately saw the 4 significant crossings bridged.

The group became motivated to do more once subsequent monitoring revealed that, although there was a significant reduction in bacterial contamination, the water quality still exceeded the guidelines for contact recreation standards. So it became clear that in order to gain further improvements in water quality a range of other best environmental practices were required. A successful application was made to the Sustainable Farming Fund to enable environmental farm plans to be prepared and this work began in 2007.
Research Approach
Meetings facilitated by the NZ Landcare Trust in association with the ICM programme have enabled a group of landowners in the catchment to come together as a landcare or catchment group.

Their current primary aim is to get the water quality of the Sherry River down to contact recreational bathing standards by carrying out a range of best practices under an umbrella of environmental farm planning that is supported via Maf's Sustainable Farming Fund.
Research Results
A workshop was held on 26th of October to bring people up to date on progress and developments.
| | |
| --- | --- |
| | |
| Riparian management at Roy Bensemann's farm | Farm meeting around farm planning |
Recent Publications
Year
Title
File Size
2012
A Summary of Outcomes and selected formal publications from the Integrated Catchment Management (ICM)research programme:2000 – 2011

1.08MB
2011
The Sherry River – a Success Story
2.97MB
2011
Facilitating voluntary action to reduce rural land use impacts in the Motueka River catchment
3.59MB
2011
Integrated Catchment Management – Special Issue of the NZ Journal of Marine & Freshwater Research
2010
The Sherry River Story – Improving Water Quality through Whole Catchment Planning.
3.71MB
Recent Presentations
Year
Title
File Size
2012
Fenemor AD 2012. THE SCIENCE OF INTEGRATED CATCHMENT MANAGEMENT: Implications for Dairy Farming. Presentation to "Dairying on the Front Foot" symposium organised by NZ Landcare Trust at Seifried Estate, Nelson, 18 May 2012. 31 slides.
5.50MB
2011
Facilitating voluntary action to reduce rural land use impacts in the Motueka River catchment.
0.02MB
2006
Bugs n mud: E. coli, turbidity and flow relationships for the Motueka River.
1.11MB
2006
Faecal microbial pollution of waters.
0.19MB
2005
Faecal pollution reduced by bridging of stream crossings on the Sherry River, Tasman District – Ecol Soc, Nelson
2.18MB
BMPs, BEPs and Guidelines
Primary Contacts:
Andrew Fenemor Email
Phone: 03 545 7710
More details»
Institute
Landcare Research

Expertise
ICM programme management; local liaison; resource management; hydrology and water resource management
Barbara Stuart Email
More details»
Institute
NZ Landcare Trust

Expertise
Farmer liasion/facilitation, river monitoring, conservation
Page last updated Friday, 9 November 2007