FRST research reviews
14/01/2011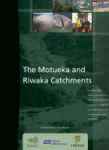 Technical report produced in 2003
In May 2007 the ICM programme was reviewed as part of FRST´s domain review of water–related research. 17 programmes were reviewed. As part of the review, we were asked to select 4 outputs from the programme that we considered important and explain why we chose them. We were also asked to compile a list of other outputs and to report against our contracted milestones. This gave as a real opportunity to reflect on what we have done and the impact our research has made.

In October 2010, the 10 years of research carried out in the ICM programme was more fully reviewed. The FRST review panel's report was supportive of the integrated and transdisciplinary research approach used throughout the last 10 years, as timely and highly relevant to the recommendations of the Land and Water Forum released just a month earlier.

The panel comprising academic, international, regional council and Maori representatives scored the ICM research 5/5 for Science Quality & Productivity, 4/5 for Impact on Catchment Management & Policy Development, and 5/5 for Knowledge Transfer.

Looking ahead, the FRST review panel commented:
"An important next step to build on the success of the programme is to apply its approach in a range of contexts, including such variables as population density, landuse, climate,water quality and quantity, and at a range of scales, single catchment, multiple catchments, and both nationally and internationally. In all cases there is a need to include the extended impact of catchments into coastal waters (the River–Plume–Ecosystem concept)."
Key Contact:
Andrew Fenemor Email
Landcare Research
Phone: 03 545 7710
More details»
Expertise
ICM programme management; local liaison; resource management; hydrology and water resource management