River bank styles
Research Status: Ongoing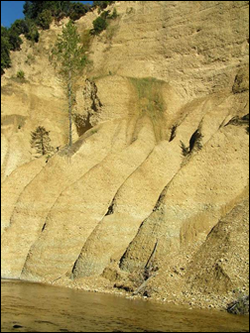 High bank in Moutere Gravels
Introduction
The stability of a river or stream bank is a complex interaction of processes happening within the channel and those on and near the bank. Vegetation is often used to control or stabilise river banks.

From our field observations of rivers and streams within the Motueka River and its tributaries, and from looking at the role of vegetation and how it controls (or not) river bank erosion we posited that it might be possible to develop a simple field-based assessment of a river bank's stability based on its morphology or form. Further we suggested that it might be possible from such a simple assessment of bank form, the likelihood that vegetation would stabilise that bank. Our current work is aiming to determine if it is possible to devise a simple system - stream bank styles - that could be used to determine the current bank stability and stabilisation potential by vegetation.
Research Approach
Literature review


Field assessment of shape/form of river banks across a wide range of geologies and stream sizes


Analysis of a range of factors to determine the likelihood of any relationships that might help predict the likely situations where vegetation would be a prime candidate for bank stabilisation.
Research Results
At December 2007: a preliminary report is underway and further field assessment is due to be done in early 2008 to clarify the approach.
| | |
| --- | --- |
| | |
| River bank | River bank showing alluvium-bedrock boundary |
Recent Publications
Year
Title
File Size
2012
A Summary of Outcomes and selected formal publications from the Integrated Catchment Management (ICM)research programme:2000 – 2011

1.08MB
2010
The Sherry River Story – Improving Water Quality through Whole Catchment Planning.
3.71MB
2008
River bank styles and effects of vegetation on bank stability – a pilot assessment
9.50MB
2006
Stream bank erosion: a review of processes of bank failure, measurement and assessment techniques, and modelling approaches
2.62MB
2006
Above and below ground characteristics of native riparian plant colonisers – Karamu, Ribbonwood, Kowhai, Lemonwood, Kohuhu, Lacebark, Mapou, Fivefinger, Cabbage tree, Rewarewa, Tutu.
Recent Presentations
Year
Title
File Size
2006
Soil & water conservation in New Zealand.
4726KB
2006
Use of Plants for Ground Bioengineering and Erosion & Sediment Control in New Zealand.
142KB
2005
Willows or natives. Is that the question?
3268KB
2005
Can our native species perform river bank stabilising functions as well as willows? Case of the cabbage tree.
1243KB
BMPs, BEPs and Guidelines
Primary Contacts:
Michael Marden Email
Phone: 06 8631345
Fax: 06 8631346
More details»
Institute
Landcare Research

Expertise
Geology/Earth Sciences/Geomorphology/Erosion processes
Chris Phillips Email
Phone: +64 3 321 9775
More details»
Institute
Landcare Research

Expertise
Erosion processes, slope stability, effects of forestry, catchment management, knowledge management
Page last updated Tuesday, 18 December 2007